Studio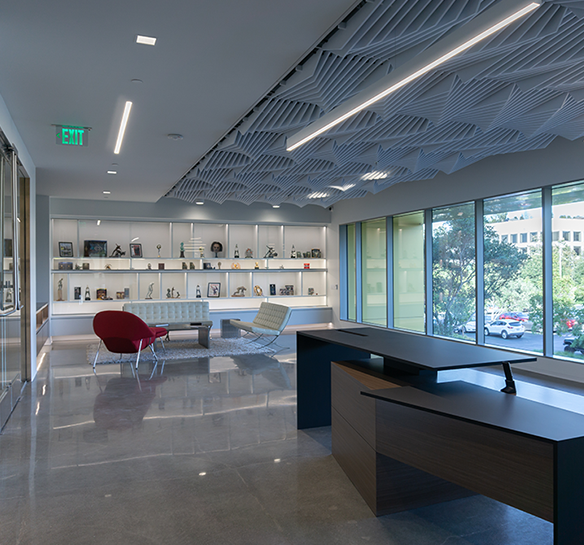 Ready At Dawn Studios® was founded in 2003 by senior members of Naughty Dog® and Blizzard Entertainment®, and since then has remained a proudly independent team of developers based in Irvine, CA. We're currently creating games for both AAA console and virtual reality audiences, and in the past we've worked on critically-acclaimed titles such as Daxter (PSP), God of War: Chains of Olympus (PSP), God of War: Ghost of Sparta (PSP), Okami (Wii port), The Order: 1886 (PS4), Deformers (PC, PS4, XB1), and Lone Echo (Oculus Rift). Ready At Dawn's technological innovations, its reputation for excellence in artistry and design, and its combined experience developing blockbuster franchises, ensure the studio will continue to raise player expectations.
Our Philosophy
Get Ready…
Ready At Dawn® is a game development studio with a single mission: making fun games a lot of people want to play. We know it sounds trite and basic, but reality sometimes is much simpler than we pretend it to be.
We could tell you that we have a "magical recipe" for making great games or we could tell you that, because we have been doing this for so long, we have somehow figured out a whole bunch of game-making "secrets" no one else has, but we'd be kidding ourselves, and you would not believe us anyhow!
Yet, while hardly secret, there are a few things we have learned about making games. We haven't composed that "magical recipe" just yet, still we have been able to distill our vision into a few fundamental principles… the essence of Ready At Dawn®, if you will.
We learned that making games requires a lot of hard work, a good deal of talent, and an appreciation for the complex social dynamics which emerge when a team of artists sweats on a project for months, sometimes years at a time.
We learned that great game makers are ruled and driven by their child-like nature. To accept, even to embrace this fact is essential for any game developer hoping to let fun spill into their creations. At Ready At Dawn®, we are so much in touch with our "inner child" that at times we have trouble locating our "outer adult."
We learned that technology is only a mean to an end. While we love the challenge and the rush of technological innovation as much as any other developer, we will not let our games become digital ego-trips. Our technology will serve the needs of our designs.
We learned that the very best developers are those who have a variety of interests and passions, and that never let their lives be defined by a single activity or association. We will always try to encourage exploration and nurture personality. Drones and one-dimensional minds have no place at Ready At Dawn®.
We learned that the biggest obstacle between an inspired vision of a game and a shipping product is the daily grind. Like sculptors, game makers must carve, chisel, and sometimes cleave their visions out of solid nothing, and their patience is routinely put to the test by mundane or tedious tasks. Turning the grind into a tool to harness creativity is what a great team does, and what makes the difference between a game that ships by default, and one that becomes the best it could be.
We learned that it is possible for people who work hard together to like and respect each other. That is the case with the team at Ready At Dawn®, and it will be our highest priority to make sure it remains that way.
Leadership
Ru Weerasuriya

Co-Founder, Chief Creative & Executive Officer

With over 18 years of experience in the entertainment industry, Ru started his career with industry-renowned developer Blizzard Entertainment®. Initially working on Starcraft™, he then led the Cinematic art direction for Warcraft™ III, Starcraft: Ghost™ and World of Warcraft™, and helped the Blizzard™ Film Department win numerous awards and accolades over the years.

In 2003, Ru co-founded Ready At Dawn Studios®. 2006 saw the release of Daxter® to commercial and critical acclaim, winning multiple Game of the Year awards. In 2008, the studio released its second game, God of War®: Chains of Olympus under Ru's direction. Hailed by the public and critics as the best PSP game ever made, it has won both a 2008 Academy Achievement Award and a 2008 Game Developer's Choice Award. The studio's following title, God of War: Ghost of Sparta achieved a similar feat in 2010 winning another Academy Achievement Award as well as a VGA award. In 2015, the studio released The Order: 1886, an original intellectual property developed exclusively for the PlayStation 4. The game is still hailed as a technological marvel, showcasing the power of the current console generation.

As President and Chief Creative Officer of Ready At Dawn®, Ru leads the company's overall game and creative development. He serves as the creative director and lead writer across all the studio's titles, including Deformers®, a multi-platform fast and frantic third person smash'em arena game, a VR project developed exclusively for the Oculus Rift, and lastly, a brand new Triple-A franchise, all of which are original intellectual properties.

Ru has been named one of the top 100 developers in the world in both 2008 and 2009, and for the last few years, has served as a judge for the Academy of Interactive Arts and Sciences' Achievement Awards and as a member of the Advisory Board for the Game Developers Conference. An alumnus of Art Center College of Design, he graduated with a Bachelor of Science in Industrial & Transportation Design. His work has appeared in several publications.

A native of Sri Lanka, having grown up in Switzerland, Ru has lived and worked in Southern California since 1996.

Andrea Pessino

Co-Founder - Chief Technical Officer

Andrea co-founded Ready At Dawn® in 2003 and serves as Chief Technical Officer, overseeing the engineering efforts of the company and pursuing special R&D projects.

From 1998 to 2003 Andrea was a Senior Software Engineer with Blizzard Entertainment® where he authored core technologies for several blockbusters in the WarCraft® franchise. Before Blizzard, he was a Senior Software Scientist with MetaCreations®, writing a number of seminal graphics applications, including: Kai′s Power Tools®, Kai′s Photo Soap®, Kai′s Photo Show®, Bryce® and Kai′s Power Goo®, for which he received numerous industry accolades, including the 1996 PC Magazine "Graphics Software of the Year" award.

A classically trained musician, Andrea has degrees in composition, harmony and music theory, and he is an accomplished pianist and composer. He continues to write for the concert hall and for games. His orchestration work on the cinematics for Blizzard′s Diablo II® earned him the 2001 IGDA Game Developers Choice Award for "Excellence in Audio."

A native of Italy, Andrea has lived and worked in California since 1990.
Studio Tour
Ready At Dawn Studios, located in Irvine, CA, features a well-lit open environment, allowing for quick iteration and discussion of ideas between employees. We're a quick walk or drive from many local restaurants and businesses, and even offer amenities such as fresh fruit and beverages, as well as a free on-site gym.
Take a brief studio tour below to see what your new office could be.
Ready to step into our studio?

Walk into our visitor's lobby, featuring art work and awards from previous titles, along with a television showing off concept and work-in-progress artwork from our employees.

On the 3rd floor you can meet some of the characters from our past games along with the awesome dev team that created them.

Our large studio kitchen, with free snacks, drinks, and more for all RAD employees.

The kitchen has some of the best views in the office over looking the gym, beach volleyball court, hiking trails, and outdoor social area.

Why yes, that is 5 arcade cabinets including Street Fighter II. Missing from this photo is the ping pong table, pool table and some comfy couches.

Groups of similar disciplines can be found across the studio, set up for quick communication and collaboration between employees. Everyone also enjoys a sit-stand desk and personal bookshelf.